Questions about Animal Welfare? Farmers and ranchers are constantly exploring new ways to improve how they raise their animals. They know that when animals are well cared for, they're healthier and more productive. Stewardship and certification programs are in place to help farmers, ranchers and food processors improve the lives of the animals that depend on them. Those programs are good for both people and animals.  Many farmers participate in farmer-driven certification programs to ensure the meat they produce is high quality and safe, and the well-being of the animals is a top priority.
CommonGround is a national movement of farm women who want to share information about farming and the food we grow.
To learn more about animal welfare we turn to CommonGround volunteer Peggy Greenway a pig farmer from South Dakota.
To learn more about how livestock producers are audited for anima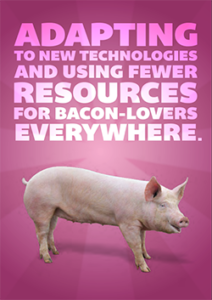 l welfare by the USDA.
To learn more about how livestock producer take care of their animals and use new technologies to keep them safe and comfortable visit Nebraska Farmers and Ranchers Deliver.